Ready to book the 3 Bedroom Single Level Villa B?
Book now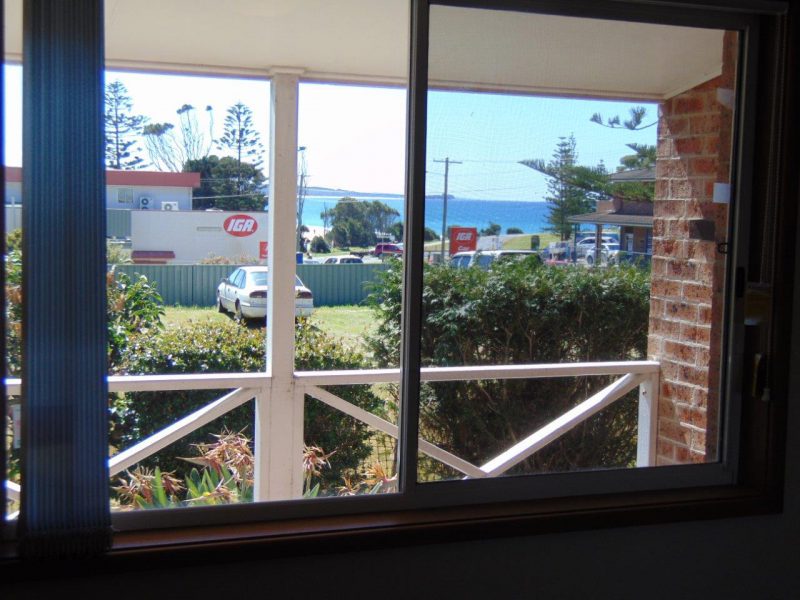 The 3 bedroom villa is in a single storey duplex, sleeps upto 7 and offers pleasant beach views from the main bedroom and verandah. Bright and airy, with reclining leather lounges in the vaulted open plan living, the unit has reverse cycle airconditioning and an off-street car space and lock-up garage. Large walk-in shower with grab rail and own laundry.

Includes: queen bed in master bedroom, single bed and bunk bed in 2nd bedroom, with built-in wardrobes in both, double bed with wardrobe, chest of drawers, tv, sitting area and external access in 3rd bedroom, clock radios, lounge / dining room, balcony views, fully equipped kitchen, fridge, microwave, stove, high chair, UHD Smart TV with Netflix, blu-ray DVD player and stereo in lounge, large walk-in shower, toilet, vanity woth hairdryer, iron and board, linen provided, own laundry, own verandah with barbecue and seating, strictly no smoking inside and no pets.
3 Bedroom Villa Availability Calendar and Rates Table

Book 7+ nights for 20% discount or 28+ nights for monthly rate!

Peak Season is summer holidays and Easter - generally min. 5 night booking. Please call if shorter gaps available.
Mid Season applies to Feb, Nov shoulders and all non-summer school holidays and long weekends - min. 2 night booking.
Low Season generally has min. 2 night booking for the 3br Villa.

Add $90 departure clean. Price is for a single or couple per night. Please add $30/$15 per additional adult/child per night.
| Season | From | To | Price |
| --- | --- | --- | --- |
| Peak | 2022-04-14 | 2022-04-18 | $260 |
| Low | 2022-04-26 | 2022-05-05 | $130 |
| Mid | 2022-05-06 | 2022-05-07 | $160 |
| Low | 2022-05-08 | 2022-05-26 | $130 |
| Mid | 2022-05-27 | 2022-05-29 | $160 |
| Low | 2022-05-30 | 2022-06-09 | $130 |
| Mid | 2022-06-10 | 2022-06-13 | $160 |
| Low | 2022-06-14 | 2022-06-23 | $130 |
| Mid | 2022-06-24 | 2022-07-17 | $160 |
| Low | 2022-07-18 | 2022-09-15 | $130 |
| Mid | 2022-09-16 | 2022-10-09 | $160 |
| Low | 2022-10-10 | 2022-10-31 | $130 |
| Mid | 2022-11-01 | 2022-12-15 | $160 |
| Peak | 2022-12-16 | 2023-01-05 | $260 |
| Peak Fill | 2023-01-06 | 2023-01-16 | $260 |
| Peak | 2023-01-17 | 2023-01-31 | $260 |
| Mid | 2023-02-01 | 2023-02-28 | $160 |
| Low | 2023-03-01 | 2023-03-09 | $130 |
| Mid | 2023-03-10 | 2023-03-13 | $160 |
| Low | 2023-03-14 | 2023-04-05 | $130 |
| Peak | 2023-04-06 | 2023-04-10 | $260 |
| Mid | 2023-04-11 | 2023-04-25 | $160 |
| Low | 2023-04-26 | 2023-05-04 | $130 |
| Mid | 2023-05-05 | 2023-05-06 | $160 |
| Low | 2023-05-07 | 2023-05-25 | $130 |
| Mid | 2023-05-26 | 2023-05-29 | $160 |
| Low | 2023-05-30 | 2023-06-08 | $130 |
| Mid | 2023-06-09 | 2023-06-12 | $160 |
| Low | 2023-06-13 | 2023-06-23 | $130 |
| Mid | 2023-06-24 | 2023-07-16 | $160 |
| Low | 2023-07-17 | 2023-09-15 | $130 |
| Mid | 2023-09-16 | 2023-10-08 | $160 |
| Low | 2023-10-09 | 2023-10-31 | $130 |
| Mid | 2023-11-01 | 2023-12-15 | $160 |
| Peak | 2023-12-16 | 2024-01-31 | $260 |