Ready to book the 3 Bedroom 2 Storey House?
Book now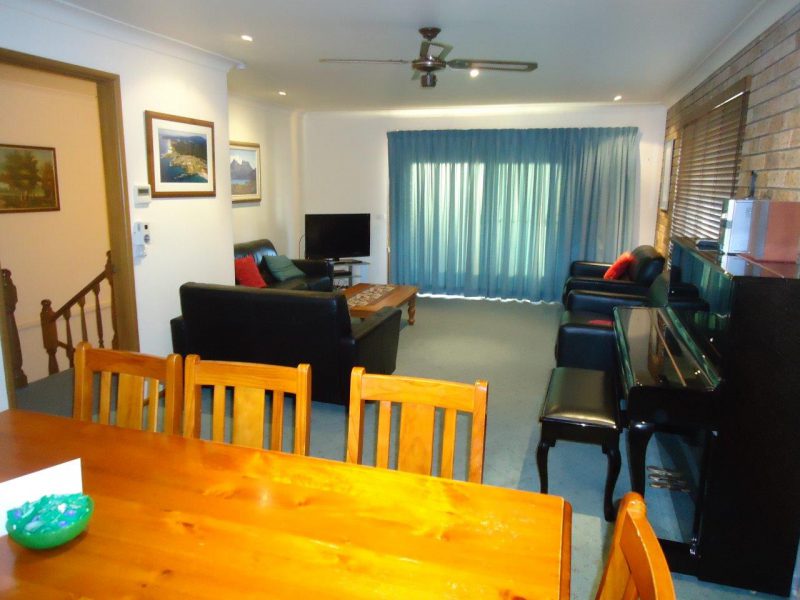 The 2 storey 3 bedroom house has bedding for upto 10, including 2 couples. There are pleasant beach views from the main bedroom, lounge and spacious covered balcony. The open plan living features leather lounges, piano, a large dining table and original Australian artwork. The upstairs level has climate control air-conditioning and a contemporary kitchen with dishwasher and spacious 2 way bathroom with concealed frontload washing machine and dryer. Downstairs there are 2 large bedrooms and a 2nd bathroom. One large motorised garage and an off-street car space is provided.

There is free wifi, 55" UHD Smart TV with Netflix (subject to internet performance), Stereo, Blu-ray DVD and keyless entry on the back door.

There is a queen bed in the main bedroom, 2 of single bunk beds in 2nd bedroom (sleeps 4), and a double/single bunk and single bed in the 3rd bedroom (sleeps 4). Each has clean linen on made-up beds and bed sides with lamps and clock radio. The fully equipped kitchen has large fridge, microwave, dishwasher, ceramic cooktop and built-in oven. There are fans, heaters, shower and toilet upstairs and downstairs (no bath in either). Each bathroom has vanity and hairdryer. An iron and board, highchair, travel cot, baby bath and mat and playpen is provided. Strictly no smoking inside and no pets. Shared garden room with barbecue is available at the rear of the property.
3 Bedroom House Availability Calendar and Rates Table

Book 7+ nights for 20% discount or 28+ nights for monthly rate!

Peak Season is summer holidays and Easter - generally min. 5 night booking. Please call if shorter gaps available.
Mid Season applies to Feb, Nov shoulders and all non-summer school holidays and long weekends - min. 2 night booking.
Low Season generally has min. 2 night booking for the 3br house.

Add $100 departure clean. Price is for a single or couple per night. Please add $30/$15 per additional adult/child per night.
| Season | From | To | Price |
| --- | --- | --- | --- |
| Peak | 2022-04-14 | 2022-04-18 | $300 |
| Low | 2022-04-26 | 2022-05-05 | $150 |
| Mid | 2022-05-06 | 2022-05-07 | $180 |
| Low | 2022-05-08 | 2022-05-26 | $150 |
| Mid | 2022-05-27 | 2022-05-29 | $180 |
| Low | 2022-05-30 | 2022-06-09 | $150 |
| Mid | 2022-06-10 | 2022-06-13 | $180 |
| Low | 2022-06-14 | 2022-06-23 | $150 |
| Mid | 2022-06-24 | 2022-07-17 | $180 |
| Low | 2022-07-18 | 2022-09-15 | $150 |
| Mid | 2022-09-16 | 2022-10-09 | $180 |
| Low | 2022-10-10 | 2022-10-31 | $150 |
| Mid | 2022-11-01 | 2022-12-15 | $180 |
| Peak | 2022-12-16 | 2023-01-05 | $300 |
| Peak Fill | 2023-01-06 | 2023-01-16 | $300 |
| Peak | 2023-01-17 | 2023-01-31 | $300 |
| Mid | 2023-02-01 | 2023-02-28 | $180 |
| Low | 2023-03-01 | 2023-03-09 | $150 |
| Mid | 2023-03-10 | 2023-03-13 | $180 |
| Low | 2023-03-14 | 2023-04-05 | $150 |
| Peak | 2023-04-06 | 2023-04-10 | $300 |
| Mid | 2023-04-11 | 2023-04-25 | $180 |
| Low | 2023-04-26 | 2023-05-04 | $150 |
| Mid | 2023-05-05 | 2023-05-06 | $180 |
| Low | 2023-05-07 | 2023-05-25 | $150 |
| Mid | 2023-05-26 | 2023-05-29 | $180 |
| Low | 2023-05-30 | 2023-06-08 | $150 |
| Mid | 2023-06-09 | 2023-06-12 | $180 |
| Low | 2023-06-13 | 2023-06-23 | $150 |
| Mid | 2023-06-24 | 2023-07-16 | $180 |
| Low | 2023-07-17 | 2023-09-15 | $150 |
| Mid | 2023-09-16 | 2023-10-08 | $180 |
| Low | 2023-10-09 | 2023-10-31 | $150 |
| Mid | 2023-11-01 | 2023-12-15 | $180 |
| Peak | 2023-12-16 | 2024-01-31 | $300 |