Ready to book the 1 Bedroom Ground Level Studio?
Book now
Ground Level Studio Unit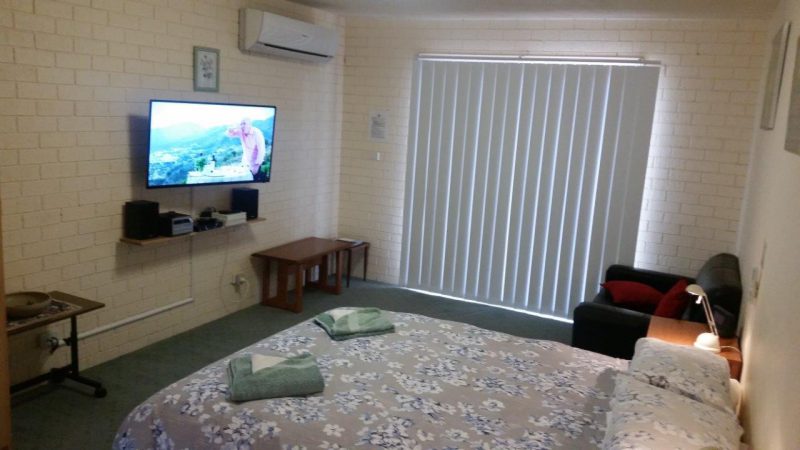 Clean and affordable air-conditioned accommodation for a single or a couple. It is a gentle walk to the nearby shops. It has a patio outlook, though no beach view from within the unit. A motorised garage is available. It offers an open plan room with queen size bed including clean linen, towels and made-up bed, bedside tables with bed lamps, clock radio, leather lounge seating and coffee table. Wardrobe has drawers, clothes hanging, iron and ironing board. Bathroom has toilet, walk-in shower and vanity with hair dryer. Equipped with full kitchen facilities, including stove, oven, refrigerator and microwave, dining, cookware and crockery and a great supermarket almost next door. Strictly no smoking inside and no pets.

An interconnecting door may be unlocked, when booked with the 3 bedroom house.

There is free wifi, 40" HD TV, Stereo, Blu-ray DVD and keyless entry on backdoor.

A shared laundry, clothes line and garden room with barbecue is available at the rear of the property.
1 Bedroom Studio Availability Calendar and Rates Table

Book 7+ nights for 20% discount or 28+ nights for monthly rate!

Peak Season is summer holidays and Easter - generally min. 3 night booking. Please call if shorter gaps available.
Mid Season applies to Feb, Nov shoulders and all non-summer school holidays and long weekends - min. 2 night booking.

Add $50 departure clean. Price is for a single or couple per night.
| Season | From | To | Price |
| --- | --- | --- | --- |
| Peak | 2022-04-14 | 2022-04-18 | $160 |
| Low | 2022-04-26 | 2022-05-05 | $80 |
| Mid | 2022-05-06 | 2022-05-07 | $100 |
| Low | 2022-05-08 | 2022-05-26 | $80 |
| Mid | 2022-05-27 | 2022-05-29 | $100 |
| Low | 2022-05-30 | 2022-06-09 | $80 |
| Mid | 2022-06-10 | 2022-06-13 | $100 |
| Low | 2022-06-14 | 2022-06-23 | $80 |
| Mid | 2022-06-24 | 2022-07-17 | $100 |
| Low | 2022-07-18 | 2022-09-15 | $80 |
| Mid | 2022-09-16 | 2022-10-09 | $100 |
| Low | 2022-10-10 | 2022-10-31 | $80 |
| Mid | 2022-11-01 | 2022-12-15 | $100 |
| Peak | 2022-12-16 | 2023-01-05 | $160 |
| Peak Fill | 2023-01-06 | 2023-01-16 | $160 |
| Peak | 2023-01-17 | 2023-01-31 | $160 |
| Mid | 2023-02-01 | 2023-02-28 | $100 |
| Low | 2023-03-01 | 2023-03-09 | $80 |
| Mid | 2023-03-10 | 2023-03-13 | $100 |
| Low | 2023-03-14 | 2023-04-05 | $80 |
| Peak | 2023-04-06 | 2023-04-10 | $160 |
| Mid | 2023-04-11 | 2023-04-25 | $100 |
| Low | 2023-04-26 | 2023-05-04 | $80 |
| Mid | 2023-05-05 | 2023-05-06 | $100 |
| Low | 2023-05-07 | 2023-05-25 | $80 |
| Mid | 2023-05-26 | 2023-05-29 | $100 |
| Low | 2023-05-30 | 2023-06-08 | $80 |
| Mid | 2023-06-09 | 2023-06-12 | $100 |
| Low | 2023-06-13 | 2023-06-23 | $80 |
| Mid | 2023-06-24 | 2023-07-16 | $100 |
| Low | 2023-07-17 | 2023-09-15 | $80 |
| Mid | 2023-09-16 | 2023-10-08 | $100 |
| Low | 2023-10-09 | 2023-10-31 | $80 |
| Mid | 2023-11-01 | 2023-12-15 | $100 |
| Peak | 2023-12-16 | 2024-01-31 | $160 |